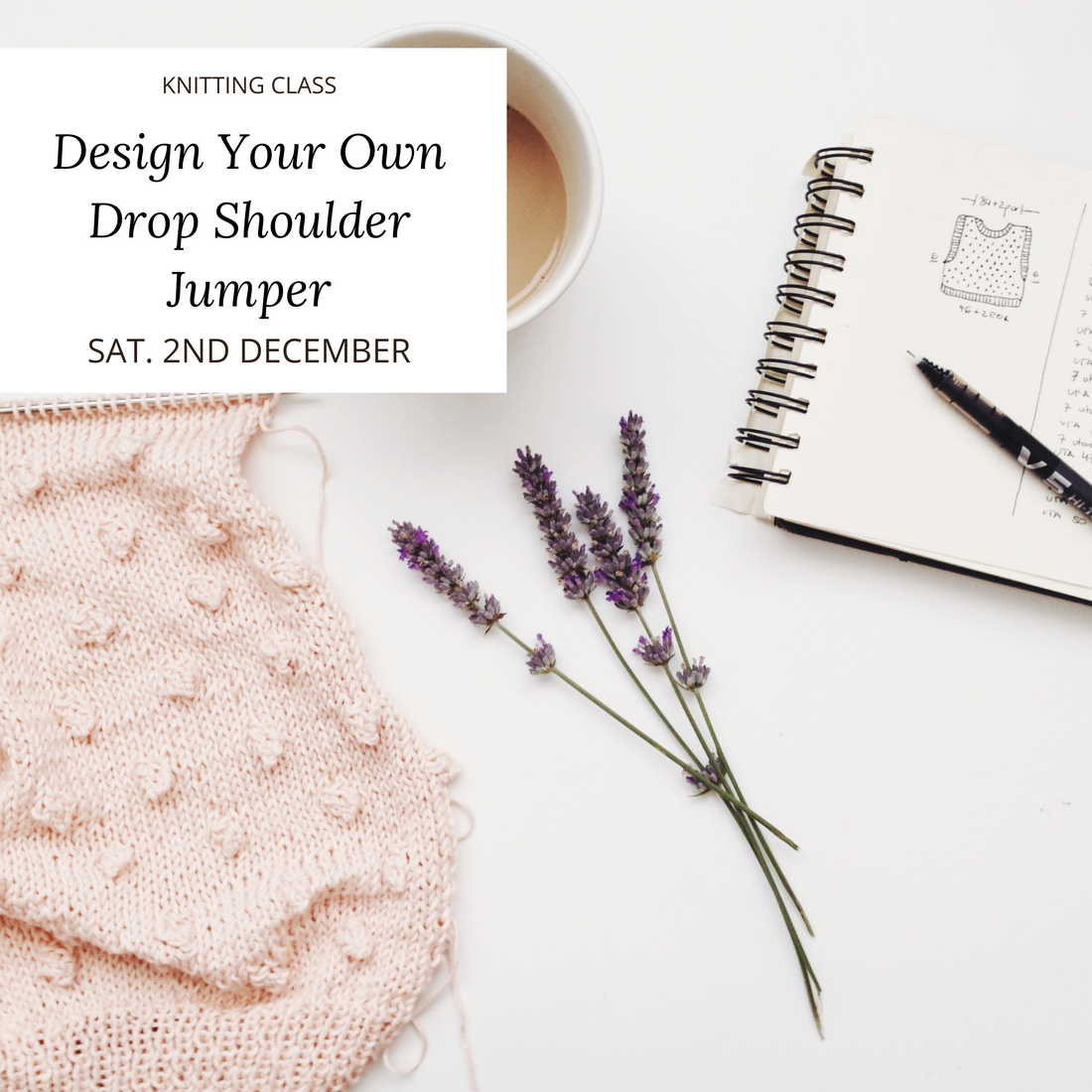 Design Your Own Drop Shoulder Jumper Knitting Class with Vera Marcu
Whether you're ready to design your own jumper from scratch or want to learn more about garment knitting in general, this class taught by Sydney-based knitwear designer Vera Marcu isn't one to be missed!
"I love this yarn but what to knit with it?" Has this ever happened to you? Do you have sweater quantities of all sorts of beautiful yarns but can't find a pattern? Maybe it's time to learn how to design your own jumper.

Drop shoulder designs are versatile and simple in construction. They can look casual, dressy, ornamental or plain and best of all, they can be a vehicle for unlimited creativity. The fact that they are basically rectangles with tubes for sleeves means that opportunities for fabric exploration are numerous. Lace, cables and colour work are much easier to experiment with as there aren't too many places where one needs to shape the fabric.

In this class we will discuss:

Yarn choices

Ease

Shaping

Swatching

Basic math

Taking measurements

Calculating gauge and using it

The advantages and disadvantages of this construction will be discussed and several modifications explained.
At the conclusion of this workshop, you should be able to plan and execute your own drop shoulder jumper design.

What to bring: paper, pen, ruler, measuring tape and a favourite drop shoulder jumper that fits you perfectly.
Please note: This class is demonstration-based and includes lots of info. As we're discussing construction and design, you won't do any knitting during the class, so no knitting materials are necessary.

A small selection of teas are available, provided complimentarily. Please feel free to bring a snack for yourself or grab a coffee before arriving!
When: Saturday, 2nd of December, 1pm - 3pm.
Please arrive at least 10 minutes prior to the start of the class.
Bookings are essential - 
our classes are kept small to allow ample learning time for each student. Please
contact u
s
if you have any questions about the class at any time!
For the knitter looking to further their knowledge.
ABOUT YOUR TEACHER
Vera Marcu learned knitting as a child and is still fascinated by this mindful and rewarding activity that brings joy to so many people. The first patterns she was exposed to were written in the European style, with minimal instructions and explanations. As she progressed and started to understand how charts presented the knitted fabric, how certain yarns worked better for certain textures, Vera found herself diverging more and more from patterns, and in the last 20 years she has mostly knitted her own designs. During the quiet times of lockdowns an idea of sharing these patterns with the knitting community became a reality and in 2021 Vera published her first pattern on Ravelry. Since then she has published more than 10 patterns independently, had patterns appear in knitting magazines and is now collaborating with several yarn companies, developing knitwear patterns. Vera likes to design things that are fun to knit but also stylish and practical to wear.

Teaching is also close to her heart, as Vera is a violin and viola teacher with many years of experience. These skills help her understand how people learn, how practical knowledge is shared and explained, and what methods work best for each individual.

HOW TO BOOK
Simply add this item to cart and proceed to checkout to purchase. Bookings cannot be confirmed until payment has been made.
Please note this is an in-person event only. You must be able to be present on the day to attend.


CANCELLATION POLICY
50% of the ticket price is non-refundable unless your place can be filled. Please notify us at least 48 hours prior to cancelling to allow us a chance to fill your place.
The class has a minimum student requirement of 4 to proceed. If the minimum isn't reached you'll be notified of the class being postponed.
About Say! Little Hen Yarns
Sustainability & Ethos
With sustainability in mind, all of the cotton yarns in our shop are either certified organic with GOTS or certified with Better Cotton Initiative (BCI), and we also stock locally grown and/or produced wool and alpaca yarns. The softness of yarns is paramount to us, and you'll find each yarn we stock is very soft. 
Find Out More